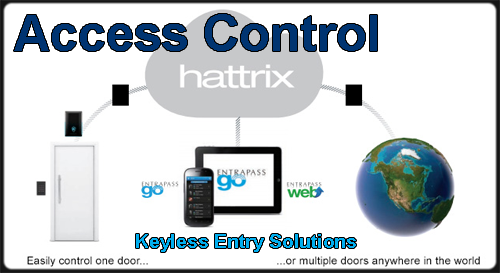 Access control is one of the products I most like to sell because it brings such a clear and present value to the customer.
keyless entry (no more lost or re-key issues)
know who came in and when.
deny access with the push of a button.
open doors remotely.
schedule openings and closings automatically.
grant access only in specific time periods.
and the list of benefits goes on and on.
We specialize and are fully certified to work with the Kantech Entrapass system and it is our go to product due mostly to its' power, flexibility, and excellent price point.
One of the downsides to access is the management of the database of users and levels of access.  This can be a bit of a beast with larger systems and this is where the Hattrix offering comes in.  We offer a managed solution with your door controllers talking to the cloud for a monthly fee.  You of course always have the option to manage it locally yourself with no recurring monthly cost.
HATTRIX Benefits
No physical server required so there are lower up front costs.
You never need to upgrade the software as it is automatically pushed to the panels free as part of the offering.
ease of use with the web portals and Kantech Go App so you are not tied to a specific PC running the software.
help when you need it.  Just call and we will assist you with holidays, schedule changes, Key additions and deletions, etc.
Database redundancy on the HATTRIX server.  You can never lose the card data due to a system crash or drive failure.  You always have a backup.
No loss of system use because the only trained employee left the company.  Just call and you are immediately back on track.
Get control of your business and who gets in and who doesn't.
Ready to find out more?
Drop us a line today for a free quote!