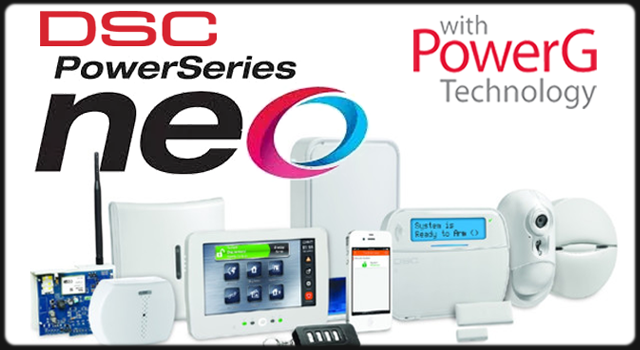 The DSC Neo Series is the latest in the time tested Power Series line.  It is a fully scalable hybrid panel (wireless or hardwire) capable of everything from residential and light retail to large commercial implementations.  It incorporates the industry leading PowerG wireless which has outstanding range, security, and battery life.  The Neo series is fully capable of running the Alarm.Com interactive platform making it a solid contender in the home automation sector as well.  The DSC Neo series is a fantastic choice to secure your home or business.
PowerG wireless features.
bi-directional frequency hopping.  This makes it virtually un-hackable as it hops across 50 different frequencies 64 times a second.
up to eight years battery life on peripherals.
up to 2km (6500') line of sight as opposed to the industry standard of approx 1000'.
bi-directional communication between the panel and the devices also creates a wealth of information with respect to trouble conditions and battery levels etc, so you can proactively address issues before they become a bigger problem.
Give us a call at (780) 937-3804 to find out more.