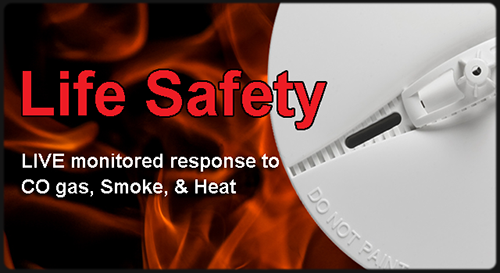 Some time ago I was working at a trade show and asked my daughter to join me because I wanted some company in the booth and she also has a natural ability for dealing with people.  She was front and center asking people if they were interested in learning more about security when one gentleman told her, "No thanks, I have a dog".  I could not hold back a laugh as she asked him if his dog could detect Carbon Monoxide.  Life Safety is often overlooked in the hype of purchasing a security system but it is a crucially important benefit of having one.
While you can purchase CO and smoke alarms at any home improvement store, they all lack one significant factor over one attached to your security system, LIVE monitored response.  A real person in the station receives the signal from your system and then reaches out to you, if there is no response then emergency services are immediately dispatched and there is no question that this saves lives.  I recommend this coverage to every single client that I deal with day to day because it is one of the real values of a system and gives substantial peace of mind.
Call us at (780) 937-3804 to find out more.
Ready to find out more?
Drop us a line today for a free quote!